4-Day Switzerland Tour from Lucerne to Zurich including Mt. Titlis Cable Car
4-Day Switzerland Tour from Lucerne to Zurich including Mt. Titlis Cable Car. Starting in Lucerne and ending in Zurich, experience the breathtaking Swiss Alps on this whirlwind 4-day adventure. During your 4-day experience from Lucerne to Zurich, you will fall in love with the Swiss Alps.
You will visit the postcard-perfect ski resorts of Zermatt and Interlaken with a guide; sightseeing in the cities of Bern and Geneva; sample Gruyère cheese in its homonymous town; and admire views of the Matterhorn, the peak that inspired the rollercoaster of Disneyland. Up Mount Titlis, ride a cable car and enjoy enough free time plus 3- to 4-star accommodation and transport in hotels.
Overview
Four-day tour through Switzerland beginning in Lucerne and finishing in Zurich
Take a panoramic cable car ride to the snow-capped summit of Mt Titlis.
Spend time in Interlaken's beautiful mountain resort town
Explore the World Heritage-listed Bern Old Town by UNESCO
Venture to see where Gruyère cheese comes from in the Swiss countryside
Marvel at Zermatt's majestic Matterhorn
Overnight accommodation with provision of regular buffet breakfast
4-Day Switzerland Tour from Lucerne to Zurich including Mt. Titlis Cable Car

Itinerary
Day 1: Lucerne – Engelberg – Interlaken – Mt. Titlis – 3 stops
Schwanenplatz
Your journey begins in central Lucerne. Relax on your 40-minute drive south to Engelberg, a mountain resort city. Load a cable car here for a scenic trip up Mount Titlis.
Mount Titlis
On your way to the base station, enjoy breathtaking aerial views, and then move to the impressive TITLIS ROTAIR gondola, which rotates its way to the snow-capped summit.
Brienz-Brienz
In the afternoon, you can ride through the beautiful Bernese Oberland and stop in the village of Brienz, a center of excellence for woodcarving. Finish your day in the beautiful resort town of Interlaken, straddling Lake Thun and Lake Brienz at the base of the towering Eiger, Mönch, and Jungfrau peaks.
Day 2: Interlaken – Bern – Geneva – Gruyères – 3 stops
Hotel Interlaken
Travel to Switzerland's capital city, Bern, for a tour of its UNESCO World Heritage-listed Old Town after breakfast at your hotel.
Old City
Have a walk and some leisure time in the lovely Old Town of Bern and don't skip the 'Bundesplatz'
Geneva
Go south past wide-open prairies and dairy farmlands, back onto the bus, and finally arrive at Gruyères, where Gruyère cheese gets its name. Admire this rural village's fairytale setting perched on a hilltop, and visit a cheese factory to see how the delicious local specialty is made. Enjoy a scenic drive through the region of Vaud that runs along Lake Geneva and arrive in the early evening at your hotel.
Day 3: Geneva – Montreux – Zermatt – 3 stops
Geneva
We'll start this morning with a city tour of Geneva. We'll show you the stunning lake-side parks, the exclusive town hall, and the United Nations' European headquarters. We will leave Geneva late in the morning and travel to Lausanne and Montreux.
Château de Chillon
We pass by Chillon Castle, a fortress from the 13th century made popular by the poem of Lord Byron (photo stop). In the afternoon, the valley of the Rhone River, with its orchards and vineyards, crosses the Valais.
Zermatt
We will board the cogwheel train at Täsch, which takes us to the Zermatt mountain resort at the foot of the mighty Matterhorn.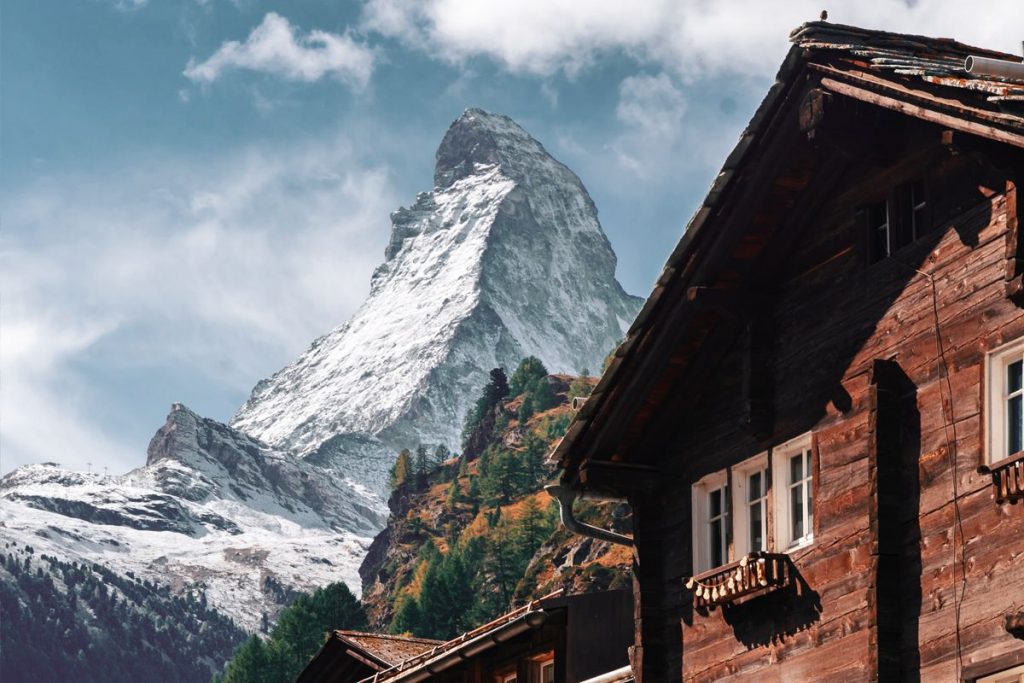 Day 4: Zermatt – Täsch – Airolo – Zurich – 3 Stops
Gornergrat
Relax in the city in the morning: shop for souvenirs, admire the quaint old farmhouses or take the cogwheel train to the snow-covered Gornergrat mountain (own expense).
Nufenen Pass
Take the train to Täsch in the afternoon, where the bus will be waiting to take you to Airolo over the stunning Nufenen Pass.
Zurich
You can return to Zurich by bus or train from Airolo (depending on the group size). The date of arrival in the city center is approx. 6.30 o'clock.
More tours in Switzerland: