7-Day Switzerland Tour from Zurich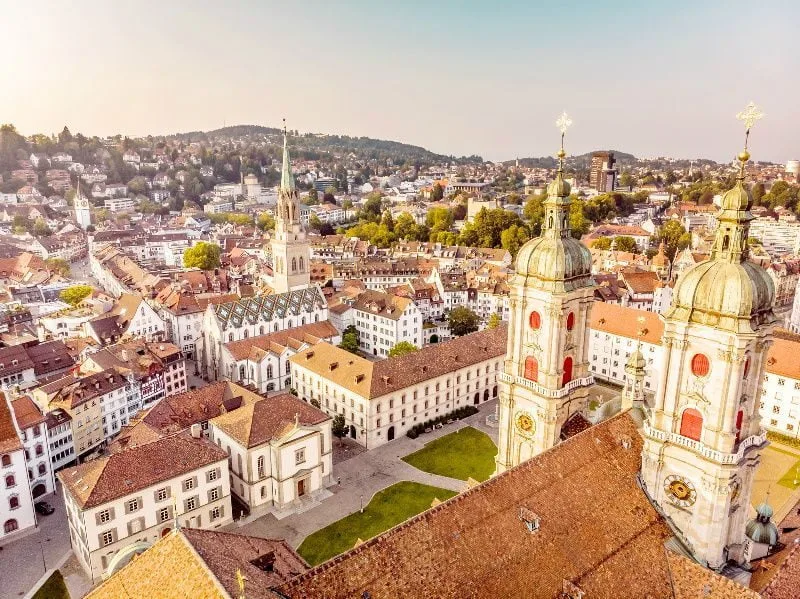 A 6-night, 7-day Switzerland tour from Zurich. Visits to Bern, Geneva, Lucerne, and Rhine Falls. Special boat trip to Yvoire in France.
7-Day Switzerland Tour from Zurich
Highlights
See the Swiss Alps in style
Embark on a scenic journey to Bern
Discover Yvoire and Gruyeres
Special boat trip to Yvoire in France
Panoramic views of the Alps at Grindelwald-First
Visit Vaduz in Liechtenstein
Explore UNESCO-listed St. Gallen
Witness the power of Rhine Falls

Itinerary
Day 1: Zurich
Welcome! Welcome to Zurich! A driver will be waiting to transfer you to the hotel upon entering the arrivals hall at Zurich Airport (ZRH). At the hotel, our guide will be ready and will provide an overview of the trip.
Enjoy an evening in the historic center next to beautiful Lake Zurich, where there are plenty of restaurants (own expense) to choose from.
Day 2: Zurich – Bern – Fribourg – Nyon – Lake Geneva – Yvoire – Geneva
We are leaving for Bern, Switzerland 's capital. For a picture-perfect view of the city, we'll go to the Garden of Roses. Free time for lunch and walking (own fee). We'll leave for French-speaking Switzerland in the afternoon, stopping in Fribourg. Then we'll drive to Nyon, a Roman-origin lakeside town. We'll take a boat from here across Lake Leman to Yvoire, a lovely medieval village. The evening accommodation is in Geneva.
Day 3: Geneva – Chillon Castle – Gruyeres – Cailler Chocolate Factory – Gstaad
There will be a panoramic tour of Geneva with a local guide after breakfast. Then we will travel to Montreaux to visit Chillon Castle (admission included), built on the waters of Lake Geneva. We'll also visit the chocolate factory at Cailler, taste included! Continue along small roads through picturesque wooden villages among bucolic mountain landscapes. The evening accommodation is in Gstaad.
Day 4: Gstaad – Grindelwald – Grindelwald-First – Meiringen – Aare Gorge – Chiasso
We'll travel around the Interlaken Lakes from Gstaad, arriving at Grindelwald. Before taking the cable car up to Grindelwald-First, you will have time for a coffee. Lunch (vegetarian option available) is included. We'll proceed to Meiringen and the spectacular Aare Gorge after that (admission included).

We will then reach the area of Switzerland, where Italian is the official language. The evening accommodation is situated in Chiasso, a Swiss city on the Italian border.
Day 5: Chiasso – Lugano – Burglen – Altdorf – Lucerne
We'll be visiting Lugano on Day 5, the cosmopolitan capital of Italian Switzerland with its lovely lake. Exploring Lugano's spare time. We'll stop in Burglen, the tiny village where William Tell was born, by crossing St. Gotthard Pass. You'll see a chapel from the 16th century with paintings depicting his life. You can also visit the William Tell museum at your own expense if you like. We may also find remnants of William Tell's legacy in the nearby city of Altdorf. To Lucerne, proceed. Free time for exploring this beautiful lakeside city.
Day 6: Lucerne – Einsiedeln – Maienfeld – Vaduz – Feldkirch
Departing from Lucerne, we travel to Einsiedeln along the Lake of the Four Cantons, whose enormous Baroque abbey is Switzerland's most important pilgrimage site. We'll continue to the east of Switzerland after that. For the tale of Heidi, Mainefeld is the inspiration.
In its historic core, we'll take a stroll, then visit Heidi 's House (own cost). Then we will fly to Liechtenstein, an independent republic, and the capital city of Vaduz with its impressive castle. Time for a walk and lunch (own fee).
We will then visit the neighboring town of Feldkirch in Austria, on the frontier between Switzerland, Liechtenstein and Germany. A lovely walled town with an authentic historic town center and a castle. Time off.
Day 7: Feldkirch – St. Gallen – Lake Constance – Mainau Botanic Garden – Stein am Rhein – Rhine Falls – Zurich
We will visit St. Gallen on Day 7, the center of which is a UNESCO World Heritage site. We will then continue to Lake Constance, between Switzerland and Germany. Time for a walk before visiting Mainau (accessible by pedestrian bridge) with its beautiful botanical garden (admission included) in Constance town center.
Once again, we cross the border into Switzerland and travel to Stein am Rhein, a typical Swiss village on the River Rhine. We'll visit Rhine Falls as well, admission included. To the end of the day in Zurich. The closure of our programs. In the event that you need an extra night in Zurich, check the time of your flight.
Flights and hotel search for Zurich