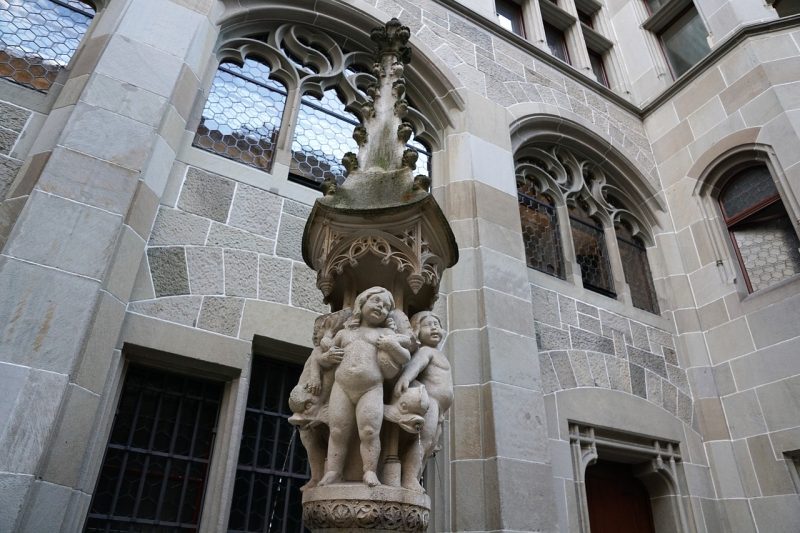 47.36971605, 8.5412002068305
47.36971605, 8.5412002068305
The name of the Protestant Fraumünster in Zurich, often mistranslated to the Church of Our Lady, actually means Women's Church, referring to the foundation of an abbey here in 853 by Emperor Ludwig for his daughter, Hildegard, for aristocratic women of Europe.
The head of the monastery was also the governor of the city until the High Middle Ages. The church is a pillared, three-aisled basilica with a Gothic nave built from the 13th to the 15th centuries, a Romanesque chancel, and a high vaulting Early Gothic transept. You can see the remains of the crypt of the ninth-century abbey church in the undercroft.
While the church itself is worth seeing, what makes it one of the most popular tourist attractions in Zürich is the beautiful set of five stained-glass windows created by Marc Chagall in 1970 in the chancel. The vividly colored windows from left to right show the ascent of Elijah into heaven, Jacob, scenes of the life of Christ, the angel trumpeting the end of the world, and Moses.
In the southern transept, the rosette is also the work of Marc Chagall. Another impressive stained glass window, The Heavenly Paradise, created by Augusto Giacometti in the 1940s, is situated in the north transept. In 1898, the abbey itself was demolished to make way for the Stadthaus, but the Romanesque and Gothic cloister survives, with paintings by P. Bodmer in 1928 illustrating the legend of the founding of the convent and Felix and Regula, the patron saints of the city.
Guided tours of Zurich
March-October: 10:00-18:00 November-February: 10:00-17:00