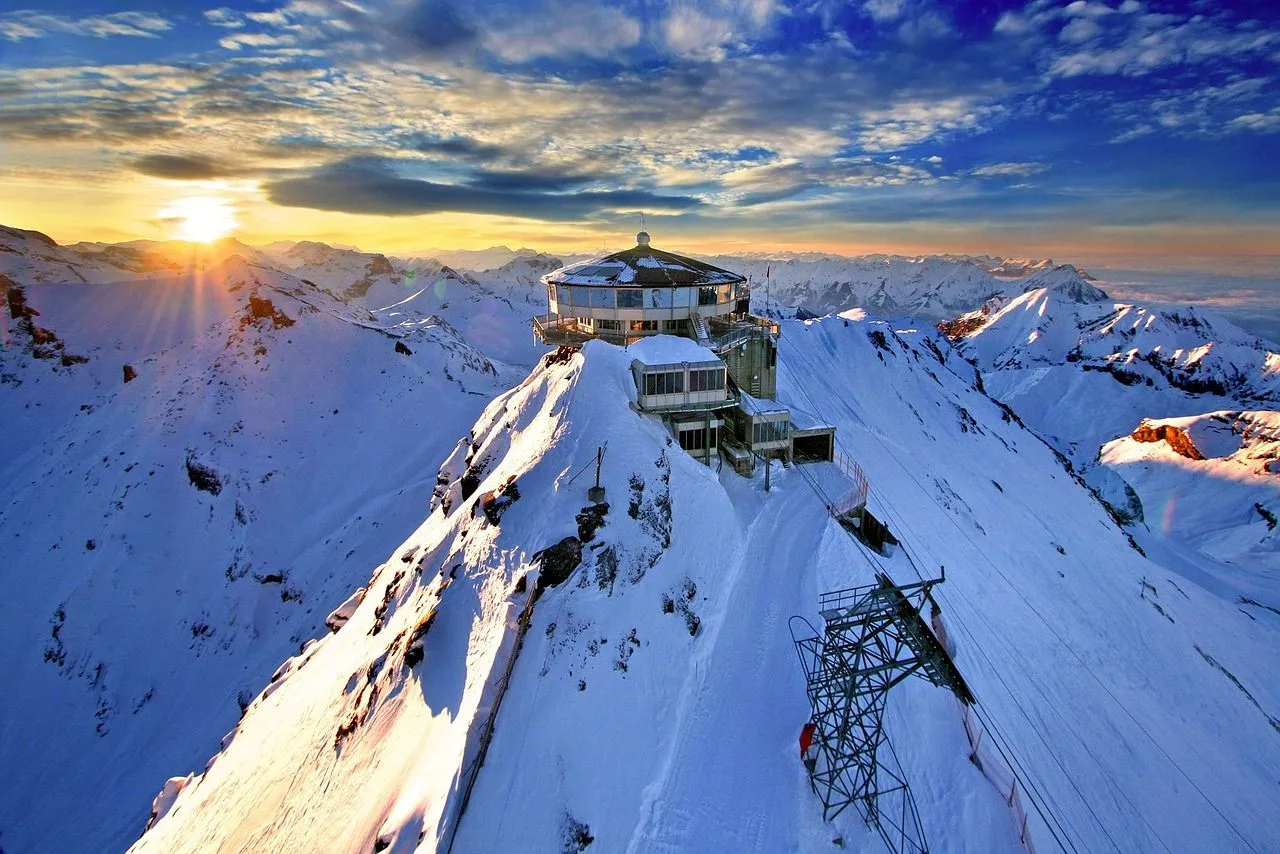 The Schilthorn is a mountain peak in Switzerland's Bernese Alps. It is the highest peak in the Bernese Oberland range north of the Sefinenfurgge Pass and looks down on the valley of Lauterbrunnen. Above the town of Mürren is the Schilthorn, which can be reached via cable car.
The Schilthorn, at an elevation of 2,970 metres, lures visitors with a 360-degree panorama of the Eiger, Mönch, and Jungfrau (all part of the UNESCO World Heritage Site) and more than 200 other mountain peaks. A hidden gem for skiers and snowboarders in the winter, and a mecca for telemarkers.
From Stechelberg in the Lauterbrunnen Valley, the cable car ascends the four stages of the mountain every 30 minutes. The panorama of the Eiger, Mönch, and Jungfrau from the peak is nothing short of breathtaking.
James Bond's "On Her Majesty's Secret Service" in 1969 brought widespread attention to the Schilthorn. The film's creation was responsible for the current name of the summit's rotating restaurant, "Piz Gloria," which rotates once every 45 minutes. Tourists can retrace James Bond's steps at the "007 Walk of Fame" or at the interactive "Bond World" display.
At the Birg intermediate station, you can take the "Skyline Walk" and gaze into the abyss. In addition, if that doesn't give you enough of a rush, there's also the " Thrill Walk," a 200-meter-long rocky walkway that descends into the cliff faces of the rock massif.
Skiers and snowboarders flock to Mürren and the Schilthorn for the area's 53 kilometers of slopes, toboggan runs and various winter hiking trails. The ski resort features terrain for all skill levels, facilities for freestylers, and, of course, a breathtaking panorama of the surrounding mountains.