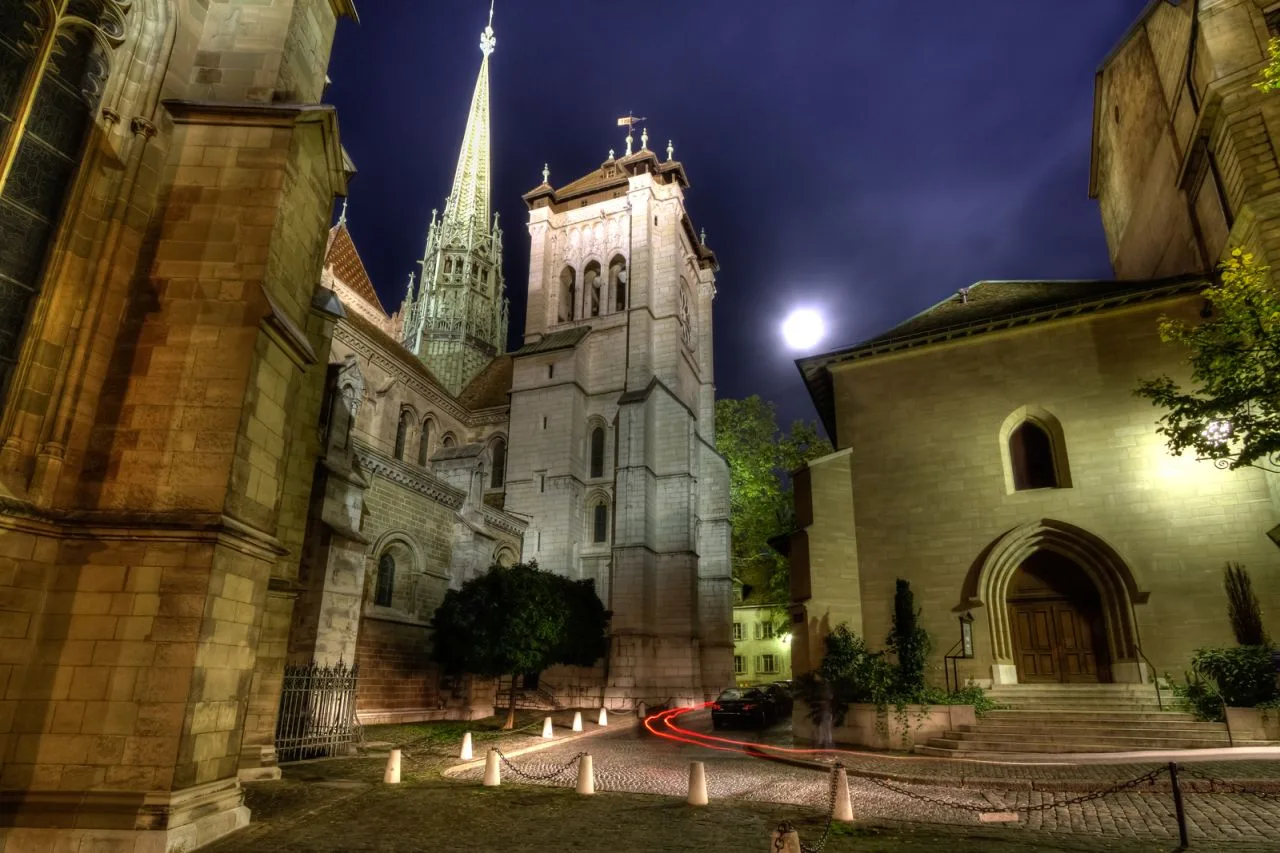 Rue de l'Evêché 1, 1204 Genève, Switzerland
Rue de l'Evêché 1, 1204 Genève, Switzerland
Geneva's major cathedral, St. Pierre Cathedral, is almost 850 years old and is known for the sermons of Jan Kalvin. St. Peter's Cathedral, as it is called in English, situated in the heart of Geneva's Old Town on a little hill overlooking the city, is an interesting blend of Gothic and Ancient architectural styles, having been renovated multiple times throughout the years. The Cathedral has been part of the Reformed Church since the 16th century.
Both the North and South Towers offer magnificent panoramas of Geneva. In addition to being home to an archaeological site and the Maccabean Caple, the cathedral is frequently the scene of musical performances.
St. Peter's Cathedral was constructed on the site of a basilica from the 6th century between the years 1160 and 1252. Several major renovations of the cathedral took conducted in the 18th century. The original structure was expanded with the addition of the Chapelle des Maccabees in 1397 and a portico on the western front in 1752.
When Genevans adopted the Reformation in 1535, they tore down the cathedral's altars and destroyed the statues and paintings within in a fit of wrath. Fortunately, the Pulpit and several of the paintings on the pillar capitals were spared.
St. Peter's Cathedral's main structure measures 64 meters in length. It contains a lovely shrine, numerous rows of benches, and a few chapels in its old, large, and somewhat simple interior that is accentuated by glossy candle-like appearing chandeliers. Large stone slabs, marking the resting places of church leaders from the 15th and 16th centuries, line the side aisles.
Jan Kalvin stayed and worked at the iconic St. Pierre Cathedral. Near the Pulpit is a triangular stool that was supposedly his regular seat.
Beautiful Gothic artwork can be found in the attached Chapel of the Maccabee in the cathedral's south-west corner. It served as a warehouse and classroom before its current function. It wasn't until 1878 that it was remodeled into its current form as the Maccabean church, complete with Gothic touches.
The cathedral's foundations were discovered over the ruins of an earlier basilica and the mosaic murals, walls, rooms, and flooring of structures even older than the 4th century. These artefacts from the past attest to the city's existence during ancient times.
A public museum has been constructed on the site of the Archaeological Site. The Roman Crypt, the Monk's Cells, and the Allobrogian Tomb are just some of the artefacts and places you can explore here.