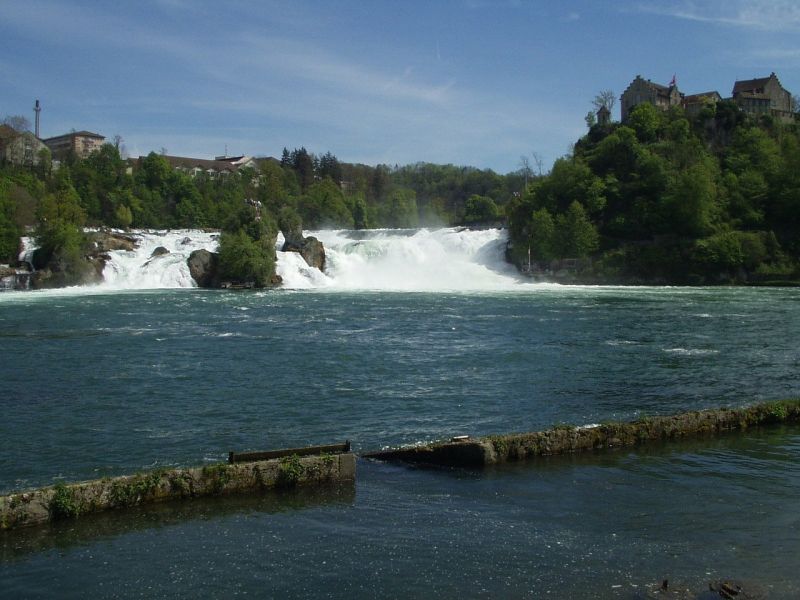 8212 Neuhausen am Rheinfall, Switzerland
47.687665240741, 8.6168155194932
8212 Neuhausen am Rheinfall, Switzerland
47.687665240741, 8.6168155194932
The Rhine Falls is the most powerful waterfall in Europe and it is located in Switzerland. The falls are situated at the border between the cantons of Schaffhausen and Zürich, on the High Rhine,
The Rhine Falls provide a wonderful spectacle. Water plunges over the falls over the summer at a width of 150 meters (492 feet) and a height of 23 meters (75.5 feet), 600 m3 (21,189 cubic feet).
Boat trips to the Rhine Falls and trips to Schloss Laufen, which is situated on the other side of the Rhine, are available. You will experience the falling water masses at close quarters during such a round trip or crossing.
An elevator adventure trail goes from Laufen Castle to the viewing platforms and allows for an unobstructed view of this natural spectacle. It is also worth taking a boat ride to the Rhine Falls basin, to the rocks in the middle of the Rhine and downstream to the national border or further to the Rheinau power plant.
The Adventure Park at Rhine Falls is one of the most spectacular rope parks in Europe, on the north bank. On 11 different courses with a breathtaking view of Rhine Falls, all those who lust for adventure can glide from tree to tree.
Do you want to take a boat excursion down one of the most beautiful stretches of the Rhine, or would you rather use (nearly) all of your senses to experience the Rhine Falls? At Schaffhausen on the Rhine, the centrepiece is the No.1 Yellow Line Rock Cruise.
The tallest waterfall in Europe features a drop of almost 23 metres, guaranteeing a deafening roar and thunder as the water hits the rocks below. Climbing the Mittelfelsen is a once-in-a-lifetime experience right in the middle of all this natural splendour. Although the giant is not easily accessible, the effort required to reach him is well worth it.