Jungfraujoch Day Trip from Geneva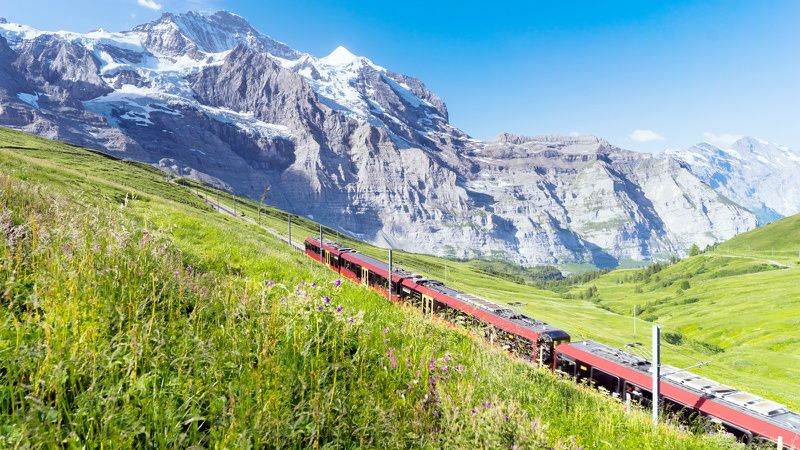 46.209796074839, 6.145446501659
46.209796074839, 6.145446501659
Book a day trip from Geneva to Interlaken for a scenic train ride up to Jungfraujoch – Top of Europe. See Aletsch Glacier, and Eiger and Monch peaks.
Highlights
Ascend to Jungfraujoch, the highest train station in Europe, with motorcoach service from Geneva to Lauterbrunnen
Take the train up through Alpine meadows and villages, to an awesome view of the Eiger north face
Experience one of the most epic train rides in Europe during your stay in Geneva
Gape in awe at the views from the Sphinx Observation Deck, 11,716 feet above sea level
Stare in wonder at the unfathomable breadth of the Aletsch Glacier
Jungfraujoch Day Trip from Geneva
Geneva – Lauterbrunnen – Kleine Scheidegg – Jungfraujoch – Kleine Scheidegg – Lauterbrunnen – Interlaken – Geneva
A journey in the Alps, at a height of 3454 meters above sea level, at the foot of the magnificent Jungfrau.
We will take the Jungfrau rack train from Lauterbrunnen after a short stop at Interlaken. At the highest train stop in Europe (3454 m), you can hit the highest. From the perch over the Aletsch Glacier, enjoy spectacular views.
Some of the best views from the prominent Eiger and Monch peaks is on the Sphinx observatory. Travel through the ice tunnel and the Alpine Feeling through the core of the glacier, which traces back the history of the Jungfrau.
After returning from high altitudes, enjoy free time in Interlaken and catch the bus to Geneva.
We'll come back to Geneva after a nice day packed with snow.

An unforgettable ride across the Alps culminating at 3,454 meters above sea level at the foot of the beautiful Jungfrau. We'll take the Jungfrau rack train from Lauterbrunnen after a little stop in Interlaken. At the summit, you'll find Europe's highest railway station (3454m).
From your perch above the Aletsch Glacier, take in the breathtaking vistas. One of the nicest views of the iconic peaks Eiger and Monch may be found at the Sphinx observatory.
As you go through the ice tunnel and experience the Alpine Sensation, you will be transported into the heart of the glacier, tracing the Jungfrau's origins. After returning from the heights, spend some time in Interlaken before boarding the bus back to Geneva.
Flights and hotel search for Geneva