Bern became Switzerland's capital in 1848, but it isn't the bustling metropolis you would expect from one of Europe's foremost countries. This is a city that changes perceptions about what capital should be. There are no high rises, and bustling crowds and Switzerland's financial center is, of course, in Zurich.
Bern isn't a huge city. Several districts have been built around the small historic center. The city's size and its lack of bustling crowds don't mean that Bern can't pack a punch. As a city that has held on tightly to its heritage, you can have a cultural trip and indulge in the many amazing attractions on offer in and around the city when you visit Bern.
Bern is situated in the very center of Switzerland, it is 95 kilometers (~60 mi) southwest of Zurich and has earned its right to be the capital. Bern provides a great jumping block at the heart of the country to get out and explore all that Switzerland has to offer.
Why you need to visit Bern
Bern earned the title of UNESCO World Cultural Heritage site in 1983 due to its well-preserved medieval old town, in the heart of the city center. It also boasts the world's first Lindt chocolate factory, which is now world-famous. Visiting Bern will bring you face-to-face with living history.
Einstein loved this city, and it was when he lived here, he was inspired to write his most famous work. If you're looking for adventure and unique activities when visiting Bern, it's worth noting that the locals have turned urban swimming into a UNESCO-listed Swiss tradition.
Bern Baroque architecture
So, where do you start when visiting Bern? Most travelers will gravitate naturally towards the heart of Bern's historic old city. It has a layout that is almost island-like. The Aare River weaves together the layout, and a good walk is the best way to explore Bern's historic old town. If you decide walking isn't for you, some trams connect one end of the town to the other and the outer neighborhoods.
The Clocktower
One of the main attractions in Bern's historic center is the clocktower or Zytglogge. The historic tower is otherworldly in its beauty, and there are guided tours that take you inside the tower for a closer look at its history and inner workings. The top of the clock opens out to stunning views across the city.
Europe's longest covered shopping promenade
When visiting Bern, you have to explore the 4-mile-long row of shops. This stretch of road has earned the distinction of being Europe's longest-covered shopping promenade. There are an array of shops along all four miles in little Baroque buildings. The fun doesn't stop there, though. Bern has underground shopping spaces that sit inside little neat cave dwellings and are accessed from wooden slat doors on the ground level. These hidden spots don't just hide shops. There are also cafes and bars and stylish boutiques.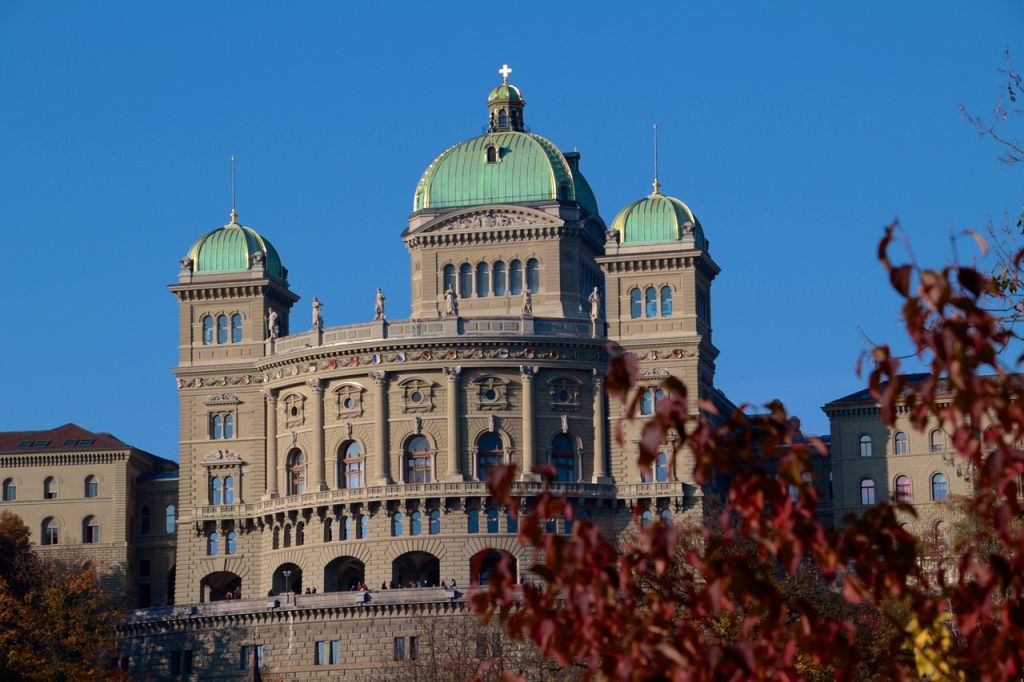 The medieval architecture
Some other places of interest around the historic old town include a smattering of medieval churches, a beautiful town hall, and a wonderful mint-colored Parliament building topped with a gold roof. 
Bern's ghosts
The side streets and alleyways that wind through Bern follow the River Aare and ghost tours run in the alleys at night to give people visiting Bern an alternative look at the city and its history. A town this old is bound to have a spooky story or two.
The city with a view
For a better view of Bern, it's worthwhile taking a climb. You can climb to the top of the Bern Minister for Panoramic views of the city and beyond, but the Rose Garden viewing point hit above the city. This area is made up of over two hundred types of Roses and is a wonderful assault on the senses as you take in the stunning views of the idyllic city and the orange-roofed townhouses that sit along the River Aare. You can even stop in the restaurant for a spot of lunch and enjoy the views for a little longer.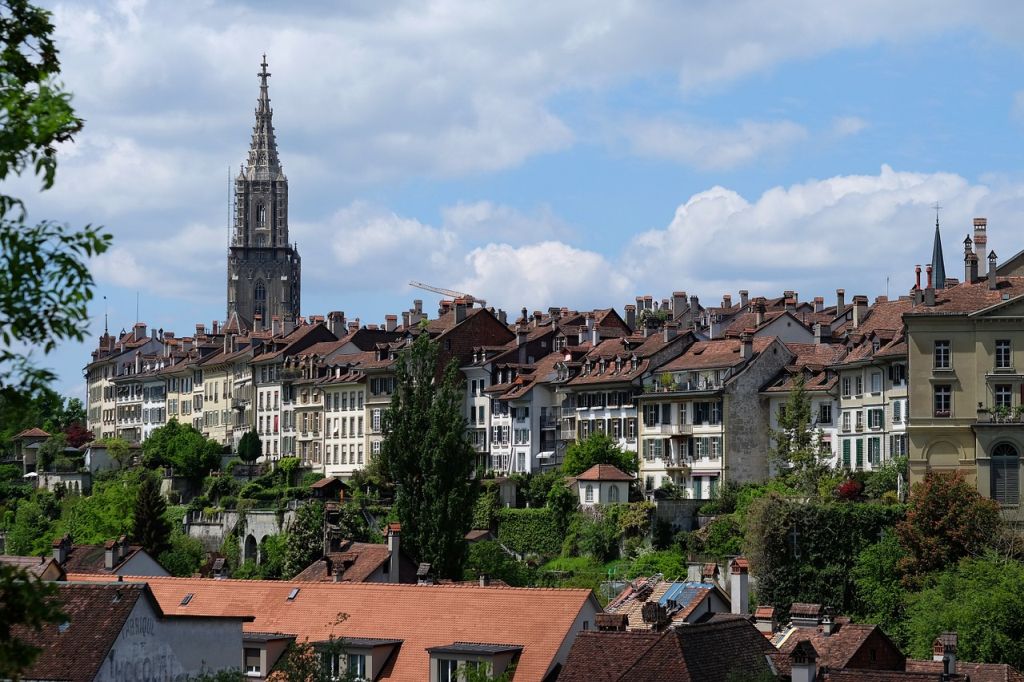 Bern museums
If you're more about satisfying your inner geek, you can pay a visit to Einstein's home and see where he discovered the theory of relativity. His home is now a museum and visitors center, and the thought of sitting where Einstein once sat has a lot of excitement for some. Although technically, you can't sit in his seat.
Bern the water city
Bern is a water city from its fountains on every corner to its curved river with fast rapids that the locals like to float around. The River Aare is central to Bern's success, but there are other adventure activities on offer here.
Bern for Adventure
When visiting Bern, take the GurtenBahn up to the mountain's peak and ride the Toboggan back down the hillside. This Toboggan ride is 500 meters of downhill adventure fun. Not only do you get to let out your inner child and enjoy some adrenaline-rushing fun, but the views on this ride are also spectacular and panoramic.
Visit Bern and fall in love with the heart of Switzerland
When you visit Bern, you can spend a full week exploring all of the wonderful and quirky features the capital has on offer, but you can also use it as a launchpad to surrounding areas. You can take a day trip from Bern to visit Burgdorf Castle in all its glory. Or use Bern as a launchpad for a bike ride through the Emmental Valley, complete with old Dairy houses. When you visit Bern, you are guaranteed a trip full of beauty, fun, and a surprise around every corner. We dare you not to fall in love.
When to visit Bern and how to get there
You can visit Bern year-round, and the closest airport is Basel, around 72km away from Bern. You can take a train from Basel, a bus or a taxi, or a private hire car to Bern. Travel time is around an hour.
Conclusion
Being a central city in Switzerland and also a federal capital, Bern is a must to visit during your next trip to Switzerland. There is plenty to see and do and to get a proper introduction to the country.